Top 5 Hoaxes of Trump's Presidency
     According to Wikipedia, a "hoax is a falsehood deliberately fabricated to masquerade as the truth." Growing up, I could never imagine the Mainstream Media would use deception to take down the President. But today, hoaxing seems to be part of their job. Journalists are supposed to report facts, and use direct quotes from reliable sources to support it. Today, journalism is gossip, rumors, anonymous sources, and nonsense. 
Here are the top 5 Hoaxes orchestrated against President Trump:
1. Russian Collusion
     For 3 years, the media led us to believe that our President is a Russian agent. They said he will be impeached for colluding with Russia during the 2016 election. But these were lies. After a three year "witch hunt," Mueller's team found no collusion and no obstruction. The left made excuses: "they might have got to Mueller;" there was obstruction; we need to read the full report; etc. Media coverage regarding Russian collusion has vanished. This was headline news for 3 years straight and now it's not even mentioned. 
The result: millions in wasted money for Mueller's investigation. 3 years of dividing the country. But in the end, Trump wins: fully vindicated and it showed the entire world how corrupt and fake the mainstream media is. 
2. Fine People
     When the left claim Trump is a racist, they usually point to Trump's "fine people" comment as their number one reason. But this was a hoax. The media ignored Trump's immediate clarification that he is "not talking about neo-Nazis and the white nationalists, because they should be condemned totally."
     Scott Adams, Joel Pollak, and Steve Cortes played an instrumental role in debunking this hoax. However, there are still many who believe that Trump referred to Nazis as "fine people." If you haven't been presented with the facts yet, review the following resources.
To debunk the "fine people" in Charlottesville hoax, I put together the following resources in this thread for you to retweet as needed.

First, to describe the fake news in context, two articles:@CortesSteve - https://t.co/Nw5x4HqRID

Or @joelpollak - https://t.co/MX3cF5DZrb

— Scott Adams (@ScottAdamsSays) March 26, 2019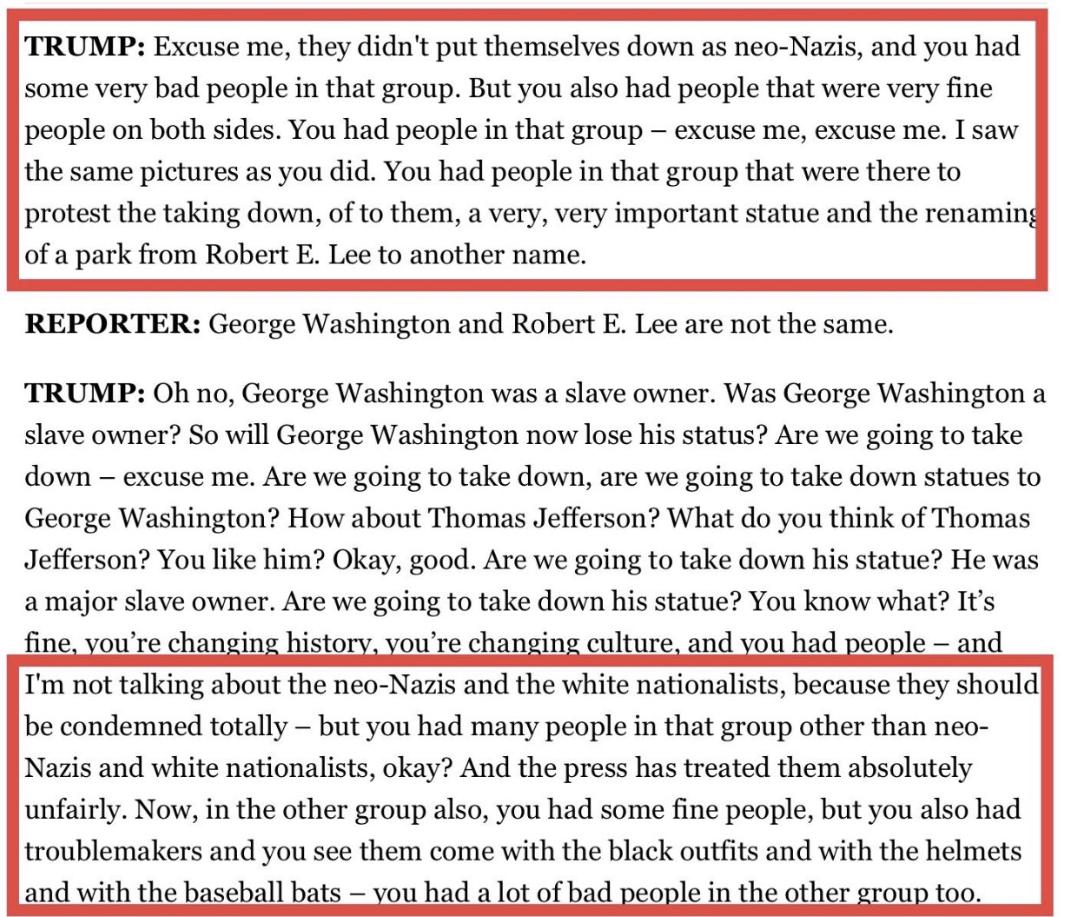 3. Jussie Smollett
     Jussie Smollett created an elaborate hoax, claiming he was attacked by Trump supporters. It became national news. Celebrities, Democrat Presidential candidates such as Kamala Harris, and media pundits immediately rushed to Smollett's defense, taking it as an opportunity to insult Trump supporters. As the facts unfolded, investigators found Smollett hired two Nigerians to fake an attack. It is unclear at this time what consequences Smollett will face for wasting police resources, and dividing the country by spreading a vicious hoax.
.@JussieSmollett is one of the kindest, most gentle human beings I know. I'm praying for his quick recovery.

This was an attempted modern day lynching. No one should have to fear for their life because of their sexuality or color of their skin. We must confront this hate.

— Kamala Harris (@KamalaHarris) January 29, 2019
 4. Covington Kids
     A group of high school students became villains overnight after the Mainstream Media shared a short clip, appearing that the boys in MAGA hats were mocking a Native American. Footage left out: Black Israelites insulting the boys with slurs because of their hats. Also, the Native American Nathan Phillips approached the boys beating his drum. The Covington kids were awaiting a bus to be picked up. The media and leftist celebrities, ignoring the facts, attacked these kids, some calling to dox them or punch them. If they were not wearing MAGA hats, it is clear the Media would have reported this story differently.
5. Ukraine Bribery
     This story is still in the works. The Democrats are doing everything in their power to impeach President Trump. I am predicting this is a HOAX. I'm also predicting when this fails, the Left will move on to another hoax.
__________________________
We cannot let the Left stop the progress America has made under President Trump. We need 4 More Years.
Be a Patriot- support your President with the BEST MAGA and KAG gear at MAGAcloset!
View all products: